Romantic Britain & Ireland - Classic Group, 2022 Classic Group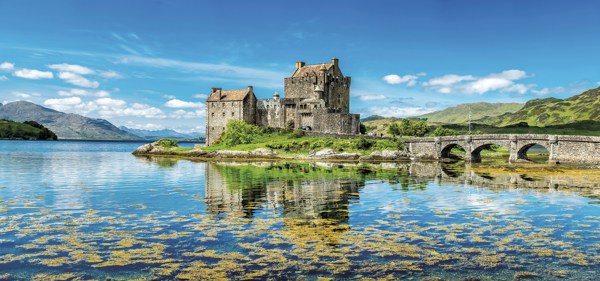 Romantic Britain & Ireland - Classic Group, 2022 Classic Group
Nurture your soul on this romantic tour of Oxford's cobbled alleyways, Edinburgh's Royal Mile and Dublin's Guinness Storehouse. Spanning the stunning Lake District, Britain's yesteryear Viking capital of York, Shakespeare's birthplace in Stratford and William Wordsworth's home village of Grasmere, this three week tour has it all. In Ireland, the lofty Cliffs of Moher offer truly stunning vistas, while the Dine Around in Killarney experience serves up a traditional Sunday roast dinner-with all the trimmings. The journey through the Ring of Kerry boasts breathtaking views of mountains fading into the distant sea and after a stop at the famous kissing stone in Blarney Castle, Local Experts add some extra sparkle with a personal tour through the House of Waterford Crystal.
Choice Highlights
Choose between two carefully selected activities
Dartmoor National Park: Walk amid the rolling valleys of Dartmoor National Park. Explore the history of stone circles and learn about indigenous traditions from your knowledgeable Local Expert. Alternatively, cruise the scenic Plymouth harbour, where 400 years ago the Mayflower set sail for America.
Plymouth: Set sail on a scenic cruise from Plymouth harbour, where the pilgrims left over 400 years ago.
Well-being
: Our Well-Being Directors take a proactive approach to your welfare ensuring all well-being regulations are met (available on tours with 21 or more guests).
: Enjoy the comfort of Insight's luxurious, air-conditioned, 40-seat coach with double the standard legroom and onboard washroom. Our customized luxury coaches are sanitized before the start of your tour and are maintained to very high standards. Physical distancing measures have been implemented on our customized luxury coaches.
: Experience enhanced hygiene protocols to align with the latest guidance following COVID-19.All Travel Directors, Well-Being Directors and Drivers have completed training in enhanced well-being and hygiene protocols.
: We only work with establishments we are confident will consistently adhere to our high well-being standards, which include hotels, restaurants and sight-seeing venues.
: Hand sanitizer is freely available on board for you to use throughout the day.
Travel Director
: "One food I really love introducing my guests to is haggis because it's surprisingly really nice and they love hearing about how it's made. "
: "Towering mountains, glittering lochs, beautiful forests, crumbling toothy ancient castles, rushing rivers, grand vistas, clear air... there's nowhere else like the Highlands, in how it looks but also how it feels: strong, bright, impressive and light."
: "One person my guests love to meet is a real musician because they love Irish music and love to experience it in its own land."
Top Rated Highlights
Oxford: See the spires and colleges of this world-famous university town.
Stratford-upon-Avon: Learn about the life of William Shakespeare, arguably history's most famous writer, when you visit his birthplace. Then enjoy some time to explore this pretty town with its iconic Tudor houses.
Lincoln: Visit Lincoln Castle and admire one of the four remaining copies of the Magna Carta, which is over 800 years old.
York: Your Travel Director will show you the York Minster, the city walls and the medieval Shambles during your orientation of the city.
Grasmere: Learn about the life of the poet William Wordsworth and visit his grave.
Edinburgh: Your Local Expert walks with you inside the walls of the Edinburgh Castle to view the Scottish Crown Jewels, the Stone of Destiny and Mons Meg.
Edinburgh: Explore the city with your Local Expert as you travel along Princes Street to see the Scott Memorial, the neoclassical Adam facades of New Town and the official Scottish residence of the Queen, Palace of Holyroodhouse.
Edinburgh: A hush descends and eyes turn to the castle. The skirl of the pipes rises and drums crack the night air as a tide of tunics and tartan flood from the drawbridge. For a limited time in August, witness the incredible spectacle of the Edinburgh Military Tattoo.
St. Andrews: Visit the university town where the famous beach scene from 'Chariots of Fire' was filmed and see the golf course where the sport was created.
Pitlochry: Visit this town, famous for its salmon leap.
Inverness: See the River Ness, Inverness Castle and beautiful scenery as you explore the history of this Highland city.
Loch Ness: Soak up the scenery and hear intriguing tales of Nessie during a cruise.
Eilean Donan: Stop for a photo of this gorgeous castle.
Fort William: Enjoy an excellent view of Ben Nevis from the World War II Commando Memorial.
Glasgow: See the grand public buildings, including George Square and St. Mungo's Cathedral.
Belfast: Meet Hilda, a true Belfast local, having lived in the same house her entire life. During your panoramic tour, hear the history of the city and learn why Hilda is proud of its progress and current prosperity. You'll also see the City Hall, Queen's University, Parliament Building at Stormont and murals in different locations indicating political sentiments of local residents.
Dublin: A Local Expert will show you Dublin's elegant Georgian squares, O'Connell Street and the Custom House.
Galway: Enjoy an orientation tour of the many landmarks in Galway such as the Lynch Memorial, Church of St. Nicholas, Spanish Arch and Eyre Square.
Cliffs of Moher: Stop by the Exhibition Centre and look out over the Wild Atlantic Way from these majestic cliffs.
Limerick: See King John's Castle, St. Mary's Cathedral and the treaty stone.
Killarney: Enjoy hearing of the hist...

At Insight Vacations, we have been in the business of creating magical experiences for travelers for over 40 years. But for us, it's never been just a business. Travel in its truest sense - not just going to incredible places, but really connecting with them, in an authentic way - is both a joy and a personal passion, for every member of our team. Let us share that passion with you. We'll take you on an unforgettable journey. We'll immerse you in unique experiences, and we'll introduce you to am
...